Q'nique 14+ Features and Frames
Grace Company has created not only a user friendly machine but also a truly affordable long arm quilting machine with all of the high end long arm features that quilters were looking for.
All of the main controls and settings can be adjusted and controlled from the handles.
Reallly?  You actually have buttons at your finger tips to adjust the speed faster or slower and the same buttons control your stitch length when in stitch regulation.  What will they think of next?
 Q'nique Long Arm Quilting Machine
With stitch regulation, increased stitch speed, extended throat space, advanced control settings, and so much more; the Q'nique long arm quilting machine is the most economical long arm quilting machine on the market!
Grace Quilting Frames for the Q'nique 14+
Stitch Regulator
With four different stitch modes, the Q'nique is just as powerful as a high end long arm quilting machine but at a fraction of the cost.
Multiple Accessory Ports
Multiple Qnique Accessories Can Be Powered Directly From The Machine With These Convenient Access Ports.
Color OLED Screen
A Bright OLED Screen Conveniently Displays All Of The Settings and Menus.
Easy Quick-Access Buttons
All Sewing Power Is Put Right At Your Fingertips! Control All Sewing Functions And Menus Easily Right From The 6 Handle Buttons.
Dual Thread Towers
When Switching Between Two Threads On A Project, The Dual Cone Thread Towers Can Come In Handy. It's Also Nice To Have A "Back-up" Thread For Shorter Delays If You Run Out Of Thread.
Technical Specs
Physical Dimensions
Length :
23 Inches
Height :
18 Inches
Width :
15.5 Inches
Tower Height :
11.25 Inches
Weight :
42 Pounds
We have provided you with a wealth of information on the Q'nique quilting machine.  It is the best on the market today.   This quilting machine is designed with all the major requirements of the 21st Century Quilter with many of the features designated by their customers.   Grace Frame has been around for 30+ years, and is trusted  around the world.  They are friendly, if you have a question it always gets answered.  If you are looking for the highest quality available the Q'nique 14+ is the one for you.  
Take action now! It is time to take your sewing to another level. Happy Quilting!
More Features: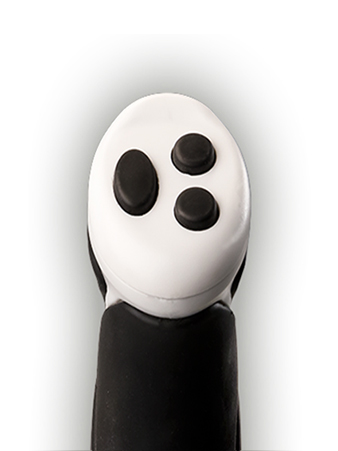 The 14+ inch throat lets you sew larger patterns and blocks
Larger throat space for a more convenient, less cluttered work area
Comfort Grip Handles
Convenient quick-access buttons for easy control of sewing functions
Every part has been fine crafted and tuned, to give up to 1,800 stitches per minute, so you can blast through your quilts faster than ever
Stitch regulation keeps your stitch length consistent, even as you speed up and slow down
The OLED screen displays an easy to navigate menu, which includes four different sewing modes
Included Motorized Bobbin Winder can wind a bobbin without running the machine
A bright OLED screen displays sewing settings
Large class M bobbin for longer quilting times without needing to change your bobbin
Easy-access bobbin for simplified changing
Dual-cone thread towers
Multiple accessory ports let you attach convenient sewing machine add-ons
Illuminate your work area with the integrated LED work lights
Needle Position:
There is no need to reach around the machine to adjust the hand-wheel, with a push of a button you can raise or lower the needle. By holding the button you can even set a "needle stop position" that will return the needle to that spot when you stop quilting.
LCD Display:
Your most important settings and quilt functions can be found right on the front LCD display. This means quick access to needle position, stitching mode, stitch speed, or stitch length.
The stitch regulation knows when you speed up and slow down, and will adjust the speed of the stitch according to your movements for a clean and consistent stitch everytime! The stitch regulation can handle the full power of the Q'nique, stitching 1800 stitches per minute!
Stitching Modes:
In Precise Mode you control the "stitch per inch" setting for consistently sized stitches. Stitch regulation adjusts the stitch speed as you quilt faster or slower. Precise Mode stops stitching when you stop moving the machine.
In "Cruise" mode, you set the SPI as well as a minimum stitch speed. Regulation adjusts to keep stitches consistent, but whenever you stop or slow your movements, the machine will continue to stitch at the minimum set speed.
Baste mode is perfect for when you want to do some long basting stitches on the edges of your quilt. You can set the the basting stitch length to short, medium or long.
Manual mode lets you control the stitch speed of the quilting machine. With the touch of a button on the handle bars, you can increase or decrease the constant speed. This is great for detailed or intricate stitching.
Basic Machine Includes:
Front handles
Electronic display
Encoders
Power cable
3 Qty M-Clas

s bobbins
10 Qty sewing needles
Sewing machine oil
Allen wrenches, screw drivers, lint brush
Optional Frame Add-ons
The Q'nique works perfectly with many different frames including: Majestic Frame, Gracie King, Gracie Queen, SR-2 Quilter, Pinnacle Frame, GMQ Pro Frame, Little Gracie II, Next Generation, iQuilt Frame, Bernina (Dual/Single Track Hybrid), Bernina (Dual Tracks Only).
If you do not already own one of the frames listed above, bundle a compatible frame below with your purchase of the Q'nique and save even more!
To purchase this Qnique 14 + from Thimbleina.com @512-965-0506